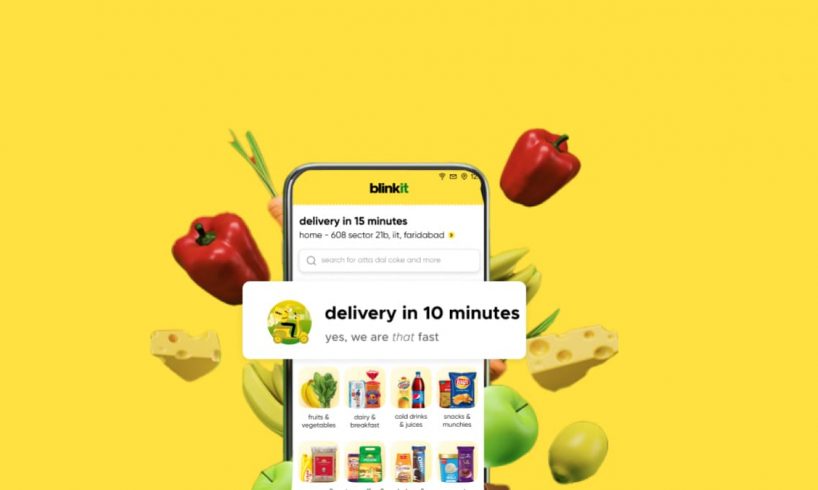 We already have so many platforms out there to shop for groceries and other daily essential needs. We already know one of the best grocery selling platforms that are Bigbasket delivering services across the world through websites and apps. In this list, one more member is added on that is the Blinkit app.
You can find this app from the App Store and Google Play store. While You download Blinkit app you can access a minimum of 75 Rupees off on your first purchase. You can easily order things and get your groceries delivered at your doorsteps in 8minutes.
You can access exciting bank discounts and wallet offers on locking the grocery deals.
On the Blinkit app you can access nearby Chemist Shops, Fruits & Vegetables, Grocery, Cleaning essentials, Tea coffee, spices, baby care products, pet care products, breakfast, instant prepared foods items, nonveg essentials, gourmet & world food, organic & healthy food, home & office accessories, biscuits, snacks, chocolates, etc.
Want to download the Blinkit app, what you have to do is share your email or phone. Later on, you will get the downloadable link to get this app on your phone.
More About Blinkit Feature and accessibility
Blinkit is initially known as Grofers delivers the groceries within 10 minutes of placing orders. It is one of the best platforms to access all your essentials at the most affordable rates on time at your location.
Blinkit is the finest and most reliable food delivery app in the industry.
It is downloadable on Apple iPhone and Android smartphones.
Whether it's frozen food, veg food, nonveg food, daily essentials, favorite spices, grocery, cleaning, and sanitizing products, organic, gourmet products, and many more.
Blinkit has a clean interface and organized stuff in various categories so you can find the products and items without any hassle.
Here on Blinkit, we have listed over 5000+ products and items for various categories and needs. Blinkit covers all the local market products as well as the branded products.
You get everything here at a reasonable price and also have the opportunity to access big offers, cashback, and bank discounts.
Blinkit has covered most of the cities of India and satisfied the customers with their grocery & daily essential delivery service.
Agra, Ahmedabad, Aligarh, Allahabad, Bengaluru, Bhiwadi, Bijnor, Chandigarh, Chennai, Delhi, Durgapur, Faridabad, Gurugram, Gauriganj, Gonda, Guwahati, Hisar, Hyderabad, Jaipur, Jamshedpur, Kanpur, Kolkata, Kota, Lucknow, Mathura, Meerut, Mohali, Moradabad, Mumbai, Noida, Panchkula, Panipat, Pune, Raebareli, Rohtak, Sonipat, Vadodara, Zirakpur.
If you belong from any location then place your order and get the products at your doorsteps within 8-10minutes instant.
If the product is not according to your expectations or if the product has something wrong you are free to contact us and get a refund within a few hours the delivery person will pick it up from you.
You can follow the Blinkit app on all social media handles Facebook page, Twitter, Instagram.
Blinkit App Download
We have mentioned the process above to download the Blinkit app by verifying your email and phone no.
Here we are suggesting you an alternative but a very general method to download this app on your phone.
You can open the Google Play Store or App Store on your phone.
Search for the Blinkit App.
Select from the appeared list and click to install it on your phone.
The download process will take a less time.
Then open this app and complete the profile creation and verification process to access the feature. cards and get you
Add to cart your favorite products and confirm the order for your city location. You can do the payments through any card.
Here, is the website https://blinkit.com/ visit and know about the service and product offered by this platform. Also, get the link to download the app.
I am a person who is positive about every aspect of life.I have always been an achiever be it academics or professional life. I believe in success through hard work & dedication.