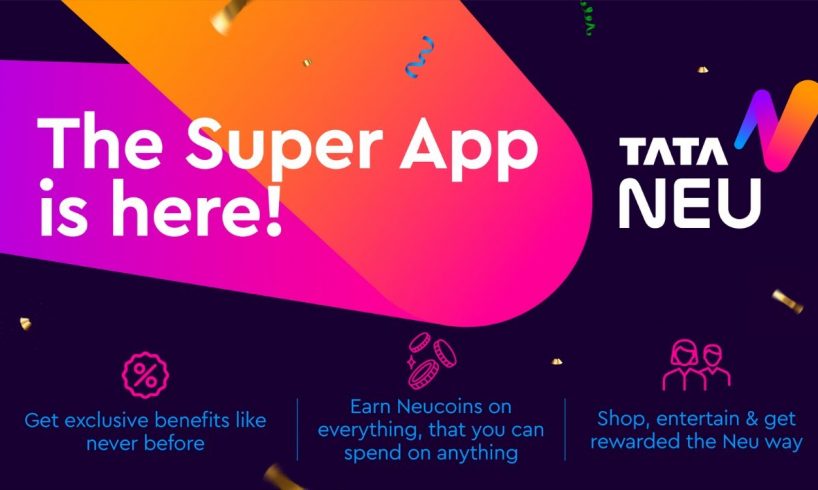 TATA is a brand known for its global reach in every sector. Be it cars, airlines, steel industry, IT services, watches, machinery, hotels, or any other product business. Everything is great from one another contributing to the development and positions of India at the global level. Now the TATA Group has launched a smart app for all needs named TATA Neu App.
TATA group is known for its outstanding product services that satisfy the needs of every individual. All their products create chaos and headlines. Likewise, 1 Lakh Rupees car: Nano car and the Neu App also make the headlines of every news & media channel.
The app looks different from other fashion, lifestyle & shopping apps as it comprises a pool of services and accessibilities in one place with one click without creating a mess. The background, appearance & design everything seems attractive & striking that everyone would love.
TATA NEU app pools up to all the services & products through a single app giving the users access to earn exciting rewards with each accessibility. Whether you're feeling hungry or want to go to the movies with your friends or travel somewhere you can access bookings for all the things in one place, by accessing the apps.
You can even order your medicines at doorsteps via this Tata smart app.
You can pay the electricity bills on time as well as can track & pay the insurance and personal loans installments.
Shop all household & groceries by accessing the TATA Neu app tabs.
Access affordable deals, discounts & rewards over multiple product brands that you can redeem at hotel bookings, grocery, electronic items purchases & other accessibilities.
You can access most of the TATA invested products & services except the Vistara & Cure.fit.
You can access Croma products, lifestyle fashion accessories, and even your cable connection of TATA services.
Reliance and Tata both are moving ahead and approaching the consumers of every class and medium with valuable predicted services. They are making reach and access to every single thing easier and more comfortable via an online pool app.
The app can easily be downloaded from the App Store and Google Play Store so whether you are an Android phone user or iPhone user, you can access this TATA Neu App.
Many rumors & speculations are rising with the launch of the tata neu app as it will be turned into a rival for many product delivery apps, eCommerce,& food delivery, other apps and impact on the share, market & business.
It is also said that this may affect the sales and business of the online market's biggest members Flipkart & Amazon too. Well, we can't say anything now because it's been only 24 hours since the launch and it's hard to predict anything regarding the TATA Neu app but we know the value and market position of the TATA group they always launch the best that fits all.
I am a person who is positive about every aspect of life.I have always been an achiever be it academics or professional life. I believe in success through hard work & dedication.