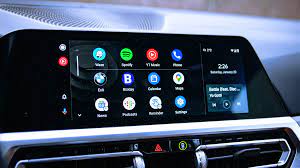 Smartphones and tech companies are moving ahead on the path of innovations and making accessibility easier for people. On Google Play Store, there is a tool Android Auto available for free that has a decent set of features to get control or mirror the android's features with a single touch.
If you have an android smartphone running on Android OS 6.0 or above you can access and install the app functionalities and connect the phone using a USB cable to access all the features on the car's screen.
An individual can access the control of the car steering wheel, & access features via voice instructions. This tool is compatible with most of the Android Smartphones App. Ths app establishes direct contact with your phone and displays the app functionalities on your car's screen to give a clear view & access to your needs and makes your driving more enjoyable.
You can access news, google assistant, GPS navigation, Do not Disturb functions for hassle-free and focused drive, all media apps, etc.
Android Auto tool is all set to launch the new updated feature that will be advantageous to test the condition and working mechanism of USB cable.
Sometimes when we try to connect the USB cable with the car it throws the errors and doesn't let the connection.
Sometimes we don't connect the USB cable properly and get into a dilemma about whether the USB cable is malfunctioned or is still working. To solve this problem, Android Auto brought new accessibility that will let you know the root cause and troubleshoot the problem.
This new feature is considered as USB startup diagnostics listed under the Connection Help. Users can update their Android Auto App to the latest version.
While you are using this app functionality and any issue encountered you will receive a popup regarding the issue.
When you connect or disconnect the USB cable it will display the message and connectivity status and get a text regarding the fixes.
Android Auto is designed with a smart menu regarding connection help so don't wait. If you face any sort of USB connectivity cable issues install this app to the latest version and diagnose the status and problem of the USB cable.
How do I avoid USB malfunctioning issues?
Experts suggest always sticking with the cables you've received with the packaging of your smartphone. As different USB cables offer different data transfer rates and service life.
You should also check the length of the cable.
Don't use too many hubs of cable or cable adapters or extensions as it also damages the quality and usability of cables.
To establish end-to-end proper USB connectivity to the port purchase high-quality cables.
John Gilmore was a reporter for Techno Secrets, before becoming the lead editor. He has over fifty bylines and has reported on countless incidents around Anchorage. John studies chemistry and history at the University of Alaska Fairbanks where he currently is in his senior year.