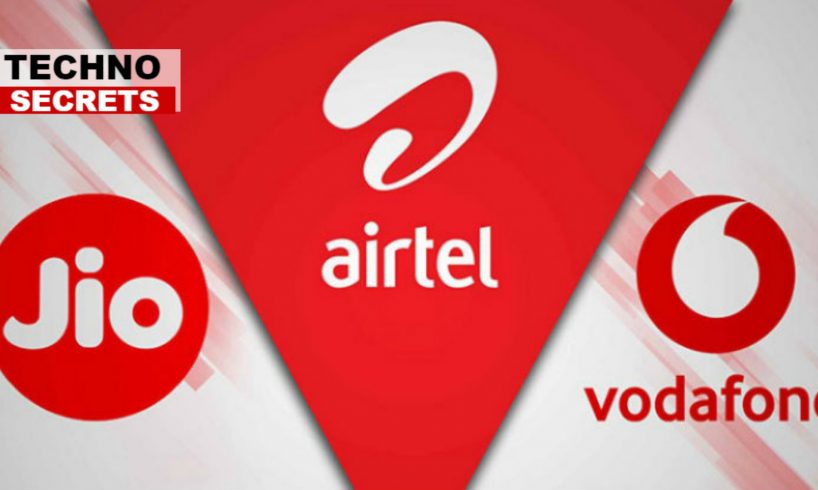 Reliance Jio vs Airtel vs Vodafone
The Telecom company come up with new plans for customer satisfaction. The Reliance Jio, Airtel and Vodafone is the top one company in India which providing services at this moment. All three company provides best offers in the cheapest tariff plans in the world, which many of us is impossible to expect to see a few years ago.
Prepaid Plans Under Rs.100
Here the list of best-prepaid tariff plans under Rs.100 that a customer can get from Reliance Jio, Airtel and Vodafone.
Reliance Jio Rs. 98 Prepaid Plan.
Reliance Jio offers its user 2GB high-speed 4G data pack for 28 days. The pack also offer 300 SMS with unlimited calls. The recharge plan cost Rs.98, However, to activate Jio Prime Member, which customer has to pay additionally Rs.99 per year. Here the total amount the customer has to pay is Rs.197 for the first-time recharge. Along with the data, the Jio also offers its customer to access free app like Jio TV, Jio Money and many more in free of cost.
Airtel Rs.95 Prepaid Plan.
Airtel offers its customer 500MB 3G/4G data packs for 28 days. The recharge plan charges Rs. 30 paise per minutes of talk time. The Airtel does not offer benefits like Free SMS or free apps which offers free TV, free music and much more. Airtel charge Rs.95 for this plan for the validity of 28 days.
Vodafone Rs. 95 Prepaid Plans.
Vodafone provides the same offers as Airtel. Vodafone provides 500MB 3G/4G data for 28 days. The plan also includes a rate cutter which charges 30 paise per minutes on talk time. The Vodafone prepaid plan does not provide any extra offers like Free SMS, Free Apps, free TV, free songs and much more. The cost of the plan is Rs.95 for 28 validity days.