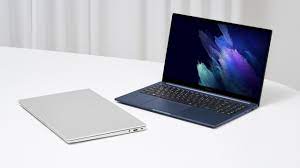 Do you love Samsung Products?
For a long time, Samsung was in the news as Samsung is again stepping into the laptop manufacturing industry. Recently this brand has launched the outstanding laptop model Samsung Galaxy Book 2. It is available for Indian Users.
In this blog- we will brief about its features and related information. Samsung is all set to attract laptop users with this tempting laptop series and competitive prices.
Samsung Galaxy Series laptop Price in India
Samsung Galaxy Book Go is a 14-inch laptop and you can find some of the great models in the price range of Rs.38,990 to Rs. 115,990. Galaxy Book 2 pro 360 model is available at Rs. 115, 990. As the price is tempting, so are its features.
You can book your favorite model from the Samsung website before it sticks out. Pre Booking has been started for Galaxy Book 2 pro, Galaxy Book 2 Business, and Galaxy Book Go Series.
Samsung Galaxy Book Pro and Galaxy Book 2 Business models are powered by 12th gen intel processors and Galaxy Book Go is running with Snapdragon 7c Gen 2 platform. All of them are run on Windows 11 and leverage Samsung's One UI Book 4.
You can buy the Samsung Galaxy Book 2 pro 360 in two sizes that are 13.3 inches and 15.6 inches. The initial price is set as 1,15, 990. You can get some exciting offers on pre-book like:
Galaxy Buds Pro
Instant cashback of 5000 Rs.
24-inch monitor
You can buy Samsung Galaxy 2 360 in the size of 13.3 inches for Rs. 99,990. Galaxy Book 2 pro can be purchased on the initial price of 1,06, 990.
The only available size for the Galaxy Book 2 is 15.6inches priced at 65,990. If you want to buy a business variant of Galaxy Book 2 then it can be purchased at 1,04,990 Rupees.
If you want to go for cheaper and affordable Samsung Galaxy Series Laptops then go for the Samsung galaxy Book Go that is available in the variant of 14inches and is very affordable under 40000 Rupees. On this purchase, you can access at least 3000 rupees cashback.
We all rely on Laptops for coding development, office work task, video editing blogging, online classes and accessing various subjects of information. We need a high-performance, speedup, smooth performance laptop that can also manage perfect communication with durable service life.
Samsung Galaxy Book Go is powered by the Snapdragon 7c Gen 2 compute platform this laptop will offer outstanding service life, immersive entertainment, and smartphone.
All the latest Samsung laptops are aligned with the customers expectations and offer best battery life to work seamlessly.
I am a person who is positive about every aspect of life.I have always been an achiever be it academics or professional life. I believe in success through hard work & dedication.