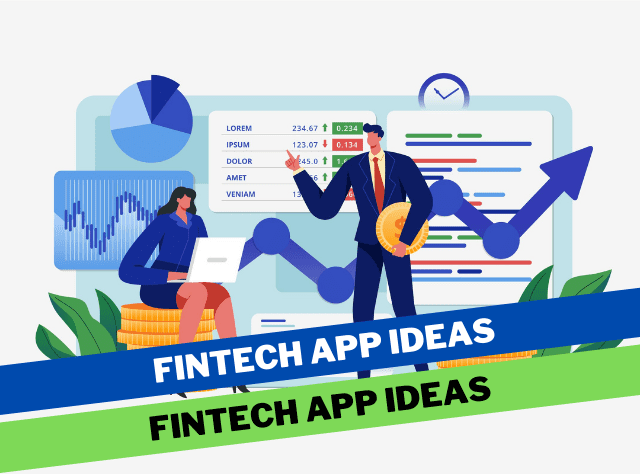 Fintech apps are emerging day by day, be it a bank, institution, capital fund venture, or any other idea. If you are running any startup and want to grow its brand value, startups can follow these ideas this year. Digital Wallet and Payment Systems making things easier and helping the costumes to access the company's services more efficiently.
7 Fintech Apps Ideas Trending in 2022 Worth For Startups Growth
Companies are focusing on unique app ideas some of the interesting ideas we are mentioning here:
Crypto exchange apps
Cryptocurrency investment is a trending topic around the world. Although the Indian government is not in the favor of this volatile market it has already created a big investor base. The company can launch crypto exchange investment apps to serve the services end-to-end customers. Bitcoin and Ethereum are widely popular currencies that earn a great amount of profit and become millionaires.
Crypto exchange apps manage the trends, purchase and sell actions using the P2P methods. People are widely showing interest in crypto trading so the startups can launch these project ideas.
Trading and Investment Apps
Share market is always an interesting topic to make the share market trading accessibility easier and comfortable, trading apps launched. These trading apps help to manage commodity, equity, shares, future & options, and other trading instruments.
If any startup has the vision to develop such apps to support the company's value he can ask the developer to build an app enabling all the trading accessibilities in one place. Our generation got comfortable with their smartphone and PCs so these apps will be handed to them.
PF Apps
People are getting dependent on digital platforms and services which has given a big hike to the online market and software development industry. The fintech industry also developed a lot with the digitalization trends. Companies are launching personal finance applications to ease the accessibility of investment.
Using these Personal finance customers can easily track and manage their financial records, cater to their expenses, financial needs, and bank account access. People can easily manage their balance and savings amount. You can ask the developer to design a PF apps project to connect your customers with you more comfortably.
E-wallet integration
Many digital payment apps have a dedicated wallet accessibility service for the customers. If you want to stretch your connectivity with the customers this could also be an interesting thing to take action. You can launch your own integrated e-wallet system.
Users can keep the required amount in this wallet and will get free cash and credits in their pockets. They can directly make payments to stores using the accessibility of e-wallets. It will be more convenient and easier in today's life and there will be less risk of theft.
Digital Banking Apps
Every bank has launched its services and products on the online platform. So users can access the banking services benefits at their home without any inconvenience and delay. Now, users don't have to go to banks for every small work and query. They can check the latest updates and notifications of banks from the portal. They can check the bank account balance, loan accessibility, connect Demat account for trading and deposit the money online using internet connectivity, mobile, and pcs.
Now everyone is managing their banking accessibilities through online banking apps. These apps have made life hassle-free and convenient for everyone on the global stage. Users can open an account in their favorite bank and download the banking statement instantly through these mobile-based applications.
There is much more you can access through these digital banking service platforms.
Insurance Applications
Do you run an insurance firm or have an idea to launch an insurance firm?
You should do this after the pandemic people have become more concerned about health and insurance. They are getting much interested in buying life insurance and health insurance plans for their future wellbeing and independence.
If you have an idea of an insurance startup then to make things more accessible you should search for the app developer who has an insurance app for you. With this app, more and more customers can reach out to you and access your services and insurance plans.
People are so busy in their lives they have no time to physically appear at your place for all the basic formalities. When everything is shifted on the digital mode platform, why are you taking a step backward?
Launch an insurance app with all the facilities, including policies, plans, account creations, claims, other services with the 24 hours technical and call support to share the queries about policies and plans.
P2P Lending Digital Apps
P2P is a peer-to-peer or end-to-end transactional platform. It is also an interesting idea for Fintech startups. People are sharing their efforts to launch safe, reliable cost-efficient P2P lending solutions in a digital mode. They want to cut off the role of intermediaries and want to create a direct link between two-person sender and receiver.
These P2P apps support the idea of being cashless and digital through a safe and reliable approach. P2P is giving much support to crypto exchanges, e-wallets, and money transfer platforms enabling a safe one-to-one interface.
You can access personal loans, keeping your personal information and data safe from others. P2P has made the time-consuming bank loan process more comfortable and convenient. Now people dn;t have to go anywhere and ask for anything. Everything is paperless and digital. You just download the apps and access the loan anytime anywhere using such P2P apps.
Any startup company can adopt the idea of fintech apps for any purpose and service to increase the brand value and services in the digital world. They can make each other better. To date, 10,000+ companies have invested and launched their personal apps products for customers' help. If you have any vision or idea get it on the digital ground with the help of a fintech app developer.
I am a person who is positive about every aspect of life.I have always been an achiever be it academics or professional life. I believe in success through hard work & dedication.