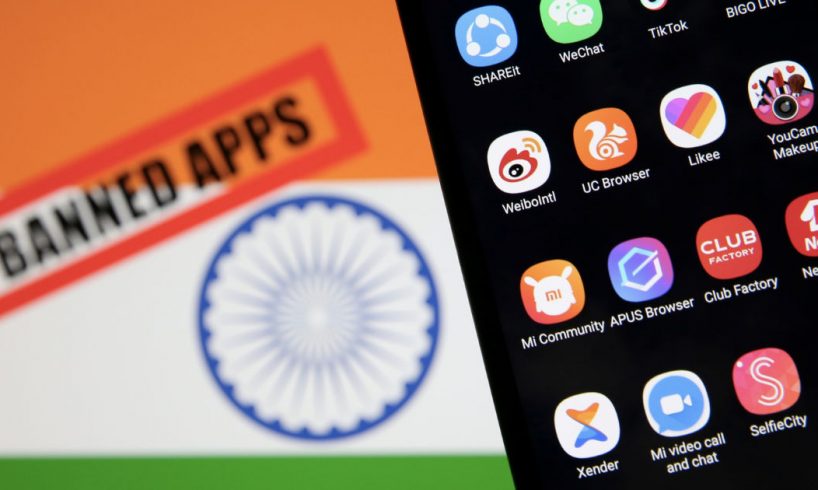 Apps are available in large numbers for Android and iOS. The apps are developed by various countries: South Korea, America, Japan, China, India. All these apps are stored in the App Store and Google Play Store. Not all of these apps are safe and reliable apps and that's why the Indian government is taking smart moves on this. Check the 54 apps banned list here!
Many apps are listed over google play store and app store, Indian government's Ministry of Electronics and Information Technology has released an official 54 Chinese apps banned list today on 14th Feb 2022. Now, these apps will not be available for download. The notification has been released officially and the apps will be kicked out soon.
Why does the Indian Government ban 54 apps again in 2022?
The first app strike was done in June 2021 and it has impacted badly the app market and the people who were actively using such Chinese apps. During the first strike, many Chinese apps were listed for the games, apps, entertainment, and other categories. There's valid data security and privacy reason to suspend these apps from the playstore. These apps were accessing the users' personal data, device information, location and stealing the privacy sharing with other data agencies.
The government has understood this fact and immediately ordered and released the official notification for 54 Chinese apps banned list.
In June 2021, a conclusion was released about Chinese apps that are putting the nation's security at risk so it would be better to block them and unlist them from the play store. The apps were used to share data transfer, images files, documents to nearby connected devices, Shareit, Xender, are known names for this purpose. Video making and photo editing apps were also banned.
When the official list of 54 apps banned in India was released and listed as the name of the popular video making app TikTok, this created big chaos because users got habitual of these apps accessibilities and they were in a dilemma:
What to do now?
How will they share the data with other devices?
How will they reach out to other people?
The Ministry of Home Affairs has taken decisions to maintain the data privacy of all Indian individuals. This time one popular game banned in the news circulating across the globe is the Garena Free Fire game. Many kids were playing these games and lost their lives. This was a popular game among gamers and players and news is trending over Twitter and other social media apps along with other Chinese apps.
54 Chinese Apps Banned Again in February 2022
Free Fire and Free Fire Max
Garena Free Fire– Illuminate
Astracraft
UU Game Booster-network solution for high ping
CuteU: Match With The World
Stick Fight: The Game Mobile
AppLock
Beauty Camera – Selfie Camera
Lica Cam selfie camera app
CamCard for SalesForce Ent
Isoland 2: Ashes of Time Lite
Dual Space (64 Bit Support)
DualSpace Lite 32 Bit Support
Dual Space (32 Bit Support)
Dual Space Pro (32 Bit Support)
Multiple Accounts and Clone App- Dual Space Lite
Multiple Accounts & App Cloner-Dual Space Pro
Nice video baidu
Video Player Media All Format
MP3 Cutter Ringtone Maker & Audio Cutter
Music Player- Music.Mp3 Player
Music Plus MP3 Player
Music Player Equalizer & MP3
Volume Booster Loud Speaker & Sound Booster
Rise of Kingdoms: Lost Crusade
Snack Video Maker with Music-Viva Video Editor
FancvU Video Chat & Meetup
Small World-Enjoy groupchat and video chat
Conquer Online MMORPG Game
Conquer Online Il
Onmyoji Chess
Onmyoji Arena
Twilight Pioneers
APUS Security HD (Pad Version)
Live Weather & Radar Alerts
Notes- Color Notepad, Notebook
FunChat Meet People Around You
MoonChat: Enjoy Video Chats
Wink: Connect Now
Badlanders
Voice Recorder & Voice Changer
Barcode Scanner QR Code Scan
EVE Echoes
Extraordinary Ones
CuteU Pro
Real: Go Live. Make Friends
Real-Lite -video to live!
FancyU pro-Instant Meetup through Video chat!
Equalizer Bass Booster|Volume EQ |Virtualizer
Equalizer & Bass Booster Music Volume EQ
Equalizer Pro Volume Booster & Bass Booster
Parallel Space Lite 32 Support
The list we have curated from different news websites to eliminate any misunderstanding and provide you validate the information. News is sad and happy at the same time because the government can't put the users' data privacy and security at risk or black holes. This was indeed to avoid Chinese data agencies out of reach.
Now, next time you download any apps check if the app is asking for other personal information permission to access from your phone also check the developer source from where it has been released.
All the 54 apps banned by the Ministry, we have listed here were banned for iOS and Android phone play stores both so check if you have one of those on your phone if yes then delete them as these apps will be out of service in a few days.
I am a person who is positive about every aspect of life.I have always been an achiever be it academics or professional life. I believe in success through hard work & dedication.