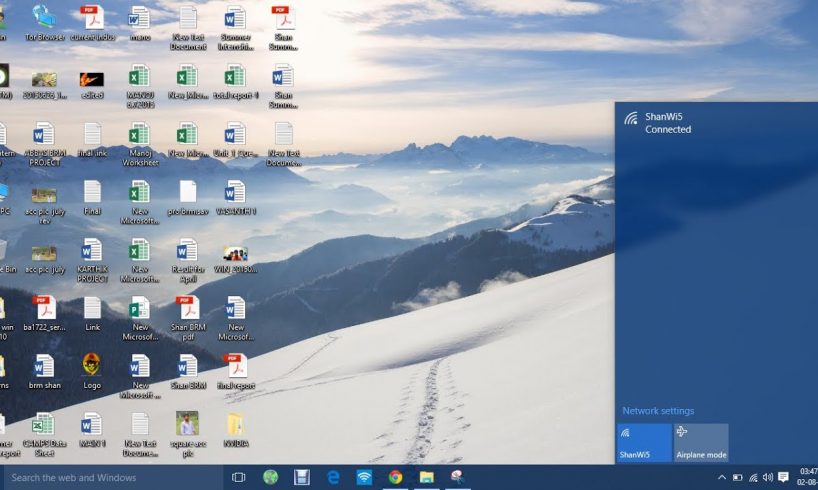 When you try to connect to the Internet but usually you don't see the Wi-Fi option in your system. This issue still exists in many windows and laptops. However, running windows do have this problem. Always make sure your laptop or computer always gets in range of your router/modem. If it is away from you, move it closer to you. Make sure your wireless function is enabled while connecting to the network. Your wireless adapter should be installed and should be enabled successfully.
Sometimes you should be asked to enter a PIN number to connect to a wireless network. This PIN wouldn't be your password or a security key. It can be your router's PIN, that is only found on the label of your router. If in case, you don't find your PIN or PIN number fails you could choose to connect by your security key and type a password for the security key. After this also if there is a connection issue then it is because of mismatching of your network security key. By this, it will be confirmed that the password of your wired networks can also fix the connecting issue in your system.
Before you begin the process of Wi-Fi solution
Before getting into this process of solutions, make sure your issue has the same symptoms matching the solution. Symptoms should be the same as given in the solution process. You will not be able to the Internet unless your WI-Fi is not listed in your Network or Internet. If the WI-Fi is missing in your connections, the Internet access option also gets disabled from your taskbar.
Following are the steps to get connected to WI-fi:
Solution 1: Restart your system and check the WI-Fi setting
Restart your system if your connection is missing and do check your WI-Fi settings again. Be sure that your router is connected to your working device, either directly or through the modem.
If it doesn't work; go to solution 2
Solution 2: Install the updates
Many WI-Fi problems can be solved by installing the latest update to fix the common WI-Fi connections. After getting your updates installed, your system doesn't restart automatically, you can start manually. Sign in after your system restarts.
The windows network can help in fixing WI-Fi problems. Make sure Wi-Fi should be On and the name of the network should appear in the connections list. Go and select your manual network and connect.
Solution 3: Check whether Wi-Fi is available on your device manager
Go to the search box in the taskbar, search device manager, and select it from the given results.
Select the arrow next to visible adapters to check whether it is one of the following adapters in the list.
Always make sure your Wi-Fi connection remains set to On in your network. And your network name should appear in the list of available wireless networks on your device. If then also your network is not visible or still having Wi-Fi issues. Go to Fix Wi-Fi Connection issues in Windows.
Brian Shannon is just getting his start a reporter. He attended a technical school while still in high school where he learned a variety of skills, from photography to car mechanics. Brian also helps keep Techno Secrets social media feeds up-to-date.